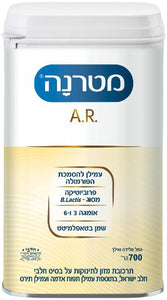 Materna Mehadrin A.R. 700 grams Pack of 2
Regular price <! --$106.00 --> $106.00 Sale
Type :
Vendor : Osem
Anti regurgitation formula for new born infant and onward. For more information about this product, visit Materna Website
Kosher Supervision: MEHADRIN BADATZ OF JERUSALEM, CHOLOV ISROEL
Expiration date : 1/2024 or later
Buy 2 and get flat $11 discount on expedited shipping.
Buy 3 or more and get FREE expedited shipping.