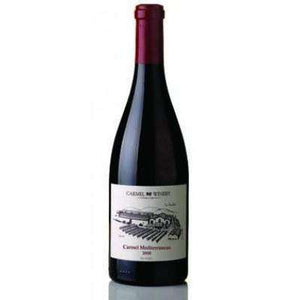 CARMEL MEDITERRANEAN KOSHER LUXURY DRY RED WINE 2016
Regular price $0.00 <! --$89.00 --> $89.00 Sale
Type : Luxury Kosher Wines
Vendor : Carmel Winery
The grapes came from the finest wine grape growing regions of Israel, most of them from the Upper Galilee, with some of the grapes coming from old vineyards from the Judean Hills.

The vinification process from each vineyard was carried out separately, and each wine was aged individually for seven months. After determining the ultimate blend, the wine was returned to the oak barrels for a further eight months. In total, the wine was aged for 15 months in French oak barrels, 20% of which were new.
To enjoy the wine to its maximum, it should be served at a temperature of 18 degrees.
Vintage Year: 2016
Composition: The wine comprises of 30% Carignan from the Park vineyard, 25% syrah from the Park vineyard, 16% Petit Verdot from the Meron Vineyard, 12% Mourvèdre from the Park vineyard, 10% Petite Sirah grown in mature vineyards in the Judean Hills and 7% Malbec grapes from Admon Vineyard.
Alcohol Content : 15%
Volume : 750 ml