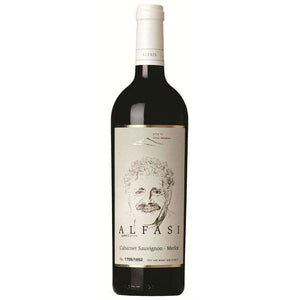 ODEM MOUNTAIN ALFASI KOSHER LUXURY DRY RED WINE 2012
Regular price $0.00 <! --$123.00 --> $123.00 Sale
Type : Luxury Kosher Wines
Vendor : Odem Mountain Winery
Alfasi is the winery's flagship wine, the label carries the family name. The label features a portrait of the family's father, Michael Alfasi, to whom this wine is dedicated.
Alfasi is produced as a limited edition with numbered bottles. Alfasi has a solid red Bordeaux color, full body and rich balanced tannins.  The aromas suggest blueberries, wild red berries, fresh spiciness and dark chocolate. The wine has a long and sweet extension 
The grapes originate at Neve Ativ Vineyard, located on the boundary of the Golan Heights and mount Hermon, due to its presence this vineyard has the special combination of basaltic soil, limestone and geological phenomena and most important outstanding microclimate .  
The grapes were handpicked at dawn and rushed to the winery for a prolonged cool fermentation.  After gentle press the wine aged in French oak barrels for two years, and further on a year in the bottle.
Vintage Year: 2012
Composition: Cabernet Franc, Cabernet Sauvignon, Merlot
Alcohol Content : 14.5%
Volume : 750 ml