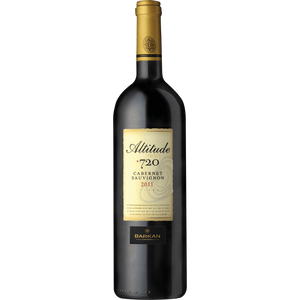 BARKAN ALTITUDE +720 CABERNET SAUVIGNON KOSHER LUXURY DRY RED WINE
Regular price $0.00 <! --$69.00 --> $69.00 Sale
Type :
Vendor : Barkan Winery
The name of the wine symbolizes the altitude of the vineyard above sea level.
This wine is grown from a vineyard at an altitude of 720 meters above sea level, in the Godrim Mountains which lies between the Dovav Settlements and the Lebanese border. After a maturation period of 14 months in oak casks, most of which are made from French oak, the wine is bottled without shading.
This wine has the potential to evolve gracefully for a long period time.
Aging – 14 months in select French oak barrels
Composition: 100% Cabernet Sauvignon
Origin: Vineyard located in the Godrim Mountains, in the Upper Galilee at an altitude of 720 meters above sea level.
Characteristics : This wine is characterized by a soft elegance, accompanied by red and black fruit, which presents a "cool" aroma with a touch of leafy freshness. The wine has a long structure, with muscular, harsh tannins.
Volume : 750 ml