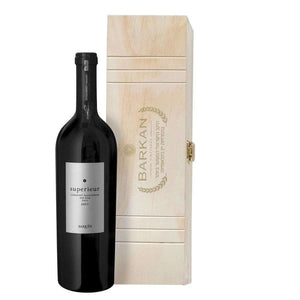 BARKAN SUPERIEUR CABERNET SAUVIGNON KOSHER LUXURY DRY RED WINE 2003
Regular price $0.00 <! --$249.00 --> $249.00 Sale
Type :
Vendor : Barkan Winery
In the world of winemaking, the Cabernet Sauvignon is labeled as a top wine with a grape variety of the highest potential. The Cabernet Sauvignon wine in the Superieur Elite Series, fully expresses this grape variety in the spectrum of wines of the Barkan Winery. The wine is produced in four plots in Merom Galil, which has an excellent reputation for producing superb Cabernet Sauvignon grapes. These plots were harvested when the grapes were fully mature, each plot and sub-plot when it was ready. The wines were manufactured through relatively warm fermentation, while the grape skins continue to soak, to reveal the true constituents of the grapes, instilling complexity to the structure of the wine.
The different wines were matured in a collection of prestigious French casks. During the maturation period of 21 months, the numerous tastings we conducted, allowed us to recognize how the wines developed their harmony and elegance. From these which we chose a handful of top-quality casks to produce the bottled wine that makes it to your glass. With its intense flavors and layered complexity, combined with softness and restraint, this wine is capable of gracefully maturing in a bottle, befitting of wines produced in the Superieur Series. 
Aging – 18 months in select French oak barrels
Vintage Year: 2003
Composition: 100% Cabernet Sauvignon
Origin: Vineyards of the Barkan Winery in the Upper Galilee.
Alcohol Content : 13.6%
Volume : 750 ml