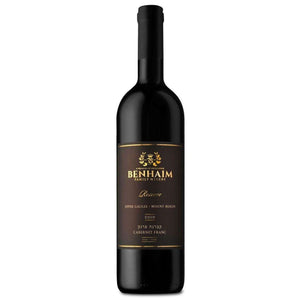 BENHAIM CABERNET FRANC RESERVE KOSHER LUXURY DRY RED WINE 2014
Regular price $0.00 <! --$99.00 --> $99.00 Sale
Type :
Vendor : Benhaim Family Winery
It is a rich, full wine, with a dominant and elegant body. It has sweet fruit tastes, soft tannins and aromas of mocha and hazelnuts.
Aging – 20 months in select oak barrels
Vintage Year: 2014
Composition: This is a dry red wine produced from 85% Cabernet Franc, 10% Cabernet Sauvignon and 5% Petite Sirah grapes sourced from the winery's vineyards at Mount Meron in the Upper Galilee.
Alcohol Content : 13.8%
Volume : 750 ml
Winemaker's Recommendations : Benhaim Cabernet Franc Reserve 2014 should be served at 17-18 degrees Celsius. It will pair well with roasted meat, chicken and casseroles.
Awards
In the "100 Best Wines" contest in Beijing, China (2013), the Cabernet Franc won an honorary certificate and a grade of 92. Furthermore, it was chosen as the Best Wine in the Middle East.
Won a silver medal at the TERRAVINO 2015 international wine competition.
Won a gold medal at the TERRAVINO 2013 international wine competition.