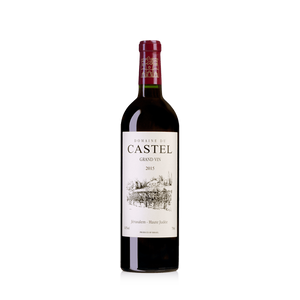 DOMAINE DU CASTEL GRAND VIN MAGNUM KOSHER LUXURY DRY RED WINE 2016
Regular price $0.00 <! --$329.00 --> $329.00 Sale
Type :
Vendor : Domaine du Castel Winery
The varieties used to create this wine are Cabernet Sauvignon, Merlot, Petit Verdot and Cabernet Franc, harvested from the vineyard's finest plots. Prior to bottling, the wine is set to mature in French oak barrels, most brand new, for approximately 16 months, followed by approx. 4 months in concrete tanks.
Castel Gran Vin is a classic, elegant wine, bearing deep coloring and a concentrated and complex bouquet of blackberries, spices and fine (yet tangible) tannin. This is a balanced wine, with a velvety smoothness and a long clean finish. It is recommended to decanter the wine before serving.
Wine is with Badatz Beit Yosef hechsher.Odem Mountain Winery
Vintage Year: 2016
Alcohol Content : 14%
Volume : 750 ml